the history of Leyton and Leytonstone
from . dot to … dots – with plenty of spaces

The Anglo-Saxons are a mystery. They have provided England with most of its place-names and most of the common words in the English language, but there has been only limited survival from the earlier Anglo-Saxon period of buildings, landscape features, objects and written records. In some places medieval settlement has been found to overlie Anglo-Saxon settlement which was over Roman settlement 1 , but a good many Saxon settlements were on different sites from the Romano-British, and many known Roman villas were not the location of later manor houses.
After the Roman period land in England was divided into estates on a new pattern, from which the medieval manors developed, though this may perhaps have been to some extent a reversion to pre-Roman landholdings.
England is thought to have been covered with a network of minster churches before it was divided into parishes within bishoprics. It is likely that the Christian centre for Leyton was Barking, though London was of course nearby.
The 'hundred' is an administrative unit that only appears in records after 957 2. Leyton was within the Becontree Hundred with a tree on Becontree Heath as its meeting place 3. >>
The photo on this page is of a carved stone in the church of St Dunstan, Stepney.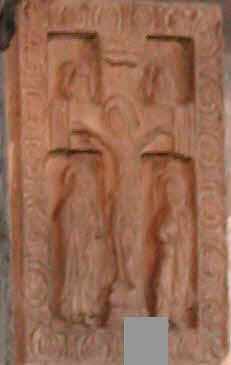 The English countryside seems to have taken shape under the Anglo-Saxons. Communities were formed from people living in groups (hamlets, villages and towns), from landholdings that became manors, and for Christian religious observance in parishes that supported a priest. The boundaries of these different kinds of communities had only an approximate relationship with each other.
2 The Law of the Land: Finding Early Medieval Assembly Sites by S Brookes, A Reynolds & J Baker in British Archaeology Sept Oct 2011